14.06.2021
THE RIGHT TO LIVE IN CLEAN ENVIRONMENT AS A PERSONAL (MORAL) RIGHT – ROA ARTICLE FOR RZECZPOSPOLITA
The recent and eagerly awaited resolution of the Supreme Court concerning the evaluation of the right to live in a clean environment in the light of regulations concerning protection of personal (moral) rights has received wide publicity.
In its resolution of 28 May 2021 (Case No. III CZP 27/20), the Supreme Court held that:
the right to live in a clean environment is not a personal (moral) right.
health, freedom, privacy are protected as personal rights (Article 23 of the Civil Code in connection with Article 24 of the Civil Code and Article 448 of the Civil Code).
While waiting for written reasoning of the resolution, Marek Oleksyn and Agnieszka Oleksyn – Wajda from ROA Rasiewicz Oleksyn & Associates took a look at the discussed issue for the leading Polish daily Rzeczpospolita.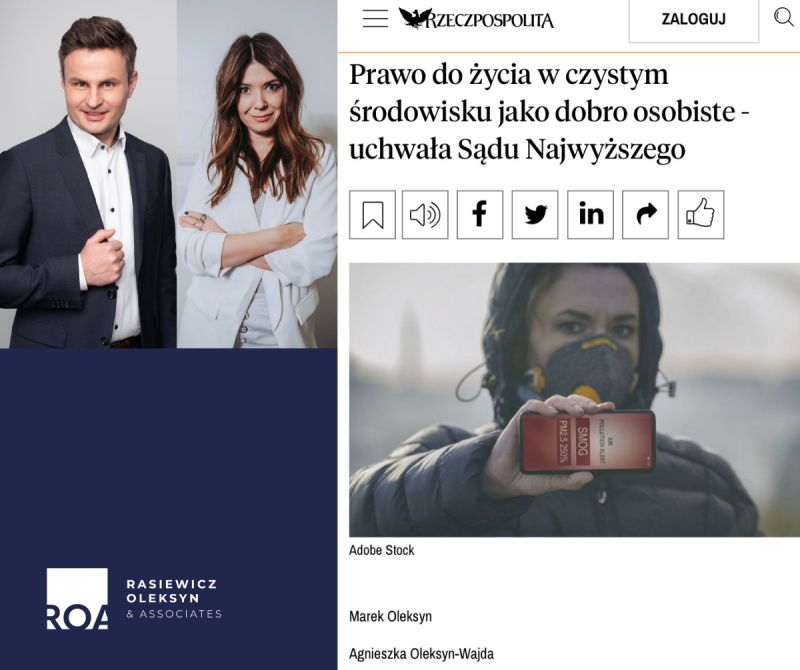 14.06.2021