Justyna Rasiewicz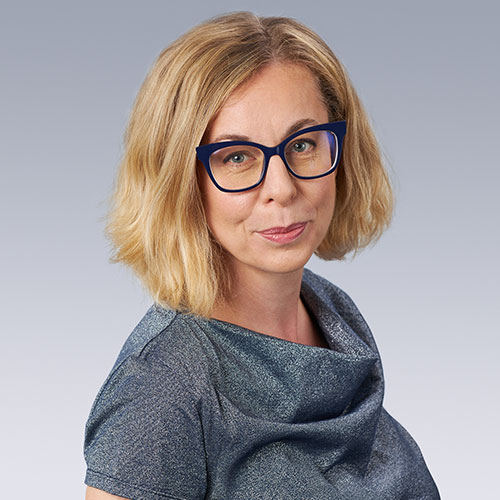 Partner / Attorney at law
Justyna is an attorney at law with over 20 years of experience in IP litigation, in particular in the field of patent law both before the civil courts and the Patent Office. She advises clients in a variety of industries, including pharmaceutical, construction, retail, gaming and IT.
She also successfully advises her clients on all aspects of trademark law, industrial designs, unfair competition and copyrights. She has represented clients before the Polish Supreme Court as well as the Court of Justice (EU). 
Justyna was the first Polish attorney at law to join the European Patent Lawyers Association (EPLAW). She is also an active member of AIPPI (The International Association for the Protection of Intellectual Property) where she takes part in the work of the Amicus Brief Committee (ABC). 

Justyna is also recognized for her academic activity, including teaching (IP litigation lectures for patent-attorney trainees) and publications (coauthor), e.g.
Methodology of attorney's work in civil cases in the field of intellectual property law (ed. 2021)

Commentary on the Industrial Property Law (ed. 2016)

Commentary on the Law on Combating Unfair Competition (ed. 2011, 2016)

Patent Protection for Second Medical Uses (ed. 2016)

International Design Protection, Global Handbook (ed. 2012)
"Justyna Rasiewicz of ROA Rasiewicz & Associates advises clients in several sectors, including pharmaceuticals and gaming, in relation to patent and copyright infringement matters. A client says: "She did a fantastic job of both understanding and communicating the differences, thinking creatively on how we could use things in a very difficult litigation." Chambers and Partners (2022)
"Her enterprising style draws praise from clients, one describing her as "very creative in trying to find the best solution for her clients." Chambers and Partners (2020)
"She is well versed in patent matters and has a strong track record advising clients in the pharmaceutical and biotech industries." Chambers and Partners (2017)
"Another sharpshooting litigator in the firm's ranks is Justyna Rasiewicz, who provides clear and transparent advice to clients and ensures that no stone is left unturned." WTR 1000 (2020)
IP Star Patent and IP Star Trademark (2020/2021)
IAM Global Leader (2020)
Languages: Polish, English
Hobby/interests: General Aviation pilot