Marek Oleksyn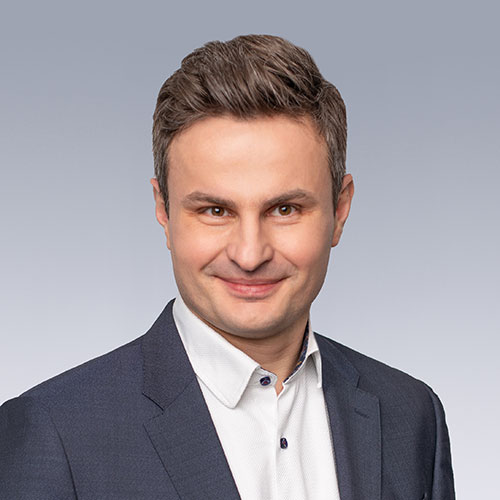 Partner / Attorney at law
Marek Oleksyn is a co-founder and partner at ROA. He is a qualified Polish attorney-at-law.
Marek has over 17 years of experience in a broad range of intellectual property matters, including trademark, patent, design, unfair competition, copyright, domain names, plant variety, databases and IP customs protection. Marek represents clients in court litigation (including cross-border IP infringement proceedings), domain name disputes and arbitration as well as trademark invalidation and revocation matters. He also prepares and negotiates agreements on IP assignment and licensing (including trademarks, designs, copyrights and know-how), prepares opinions and memoranda on IP-related matters and drafts agreements with key personnel re: assignment of intellectual property rights. He assists clients in R&D and green technologies projects.
Marek also drafted and negotiated agreements on implementation and maintenance of IT systems and advised on sports marketing issues.
He advises entities from various market sectors, including chemical, construction, IT, financial, automotive, FMCG, alcoholic beverages and luxury goods.
Marek is author of numerous publications on the protection of intellectual property and advertising law. He lectures at Lazarski University, including "MBA in Energy" as well as "Law in New Technologies", "Fashion Management and Law" and "Employment Law" postgraduate studies.
Marek is a recommended lawyer in the field of intellectual property by Legal 500, WTR 1000, Chambers and Partners and IAM Patent 1000.
Languages: English, French
Memberships:
District Chamber of Attarneys-at-Law in Warsaw

INTA – member of Enforcement Committee
Marek Oleksyn is an expert in trade marks and unfair competition cases – Legal 500 (2020)
Marek Oleksyn is very good at developing strategies and bringing value to the company. – Legal 500 (2020)
Marek Oleksyn advises on trade mark rights protection. A client praises his "open communication style and commitment." – Chambers and Partners (2020)
Oleksyn is "a pleasure and privilege to work with and a talented practitioner with first-rate legal expertise" – WTR 1000 (2020)
IP and unfair competition maven Marek Oleksyn playing a crucial role – IAM Patent 1000 (2020)